There's a new generation of private islands. One that creates an environment for guests to vacation their way to becoming their best selves.
Scratch any impressions you have of private islands inhabited by music moguls jet-skiing with nude models, royalty sneaking around with other people's spouses, or tech billionaires popping magnums of champagne.
The new private island experience isn't just about seclusion away from prying eyes.
It's about the ultimate spirit of togetherness with a group of people you value most in the world – having the uplifting and inspiring shared experience of a customized vacation that provides all the means for you to leave better than when you arrived.
Imagine having an entire island all to yourself for a family gathering, the ultimate destination wedding, vow renewal, reunion, or team-building exercise.
The new type of private island is exclusive, but at the same time also more easily sourced and booked than ever before. Your trusted travel advisor can help you craft an end-to-end private island retreat that will transform your idea of a tropical vacation.
Here's one of our favorite examples of private islands that's breaking the mould and redefining what a private island vacation can mean.


The Aerial BVI
This 43-acre private island destination in the British Virgin Islands is nestled among fourteen surrounding islands, with both stunning sunrises and sunsets.
The new approach to the private island experience comes from its most recent owner, a self-made young woman entrepreneur. Her vision is to "provide guests with the space to find their center again, eat healing food, reconnect to nature and loved ones, and discover what matters most."
Like the best of private island experiences, guests enjoy the services of a full staff of chefs, hosts, activities managers, housekeeping and watersports teams, boat captains, island concierge and everything needed to fulfil your every need – whether you know you need it or not.
Spectacular Tropical Island Home Away From Home
The Aerial welcomes 26 guests in five residences with names that channel the owner's aspirations for those coming to the island: Unity House, Faith House, Serenity House, and the Love and Grace Villas.
Rooms in each residence are unique, and as you might expect, they flow into their island surroundings allowing guests to feel part of the natural environment, with island and ocean views dominating sightlines.
Rooms are outfitted in different ways to feed different guest needs ranging from relaxation to reflection, to romance to writing to simply engaging with the outdoors: relaxing daybeds, serene "focus spaces" with writer's desks for those who want to journal their journeys, private, cliffside balconies, chair swings, outdoor showers or soaking tubs, romantic stargazing decks, and balconies overlooking the infinity pool, to name a few.
Healing Cuisine
The Aerial challenges its guests to think outside the box of private chefs and indulgent dishes.
Its dining, while delicious and satisfying, is about providing "healing," cuisine that helps guests to "think their best, feel their best, create at their best and connect to the planet in a beautiful and sustainable way."
The private island resort sources ingredients from local providers in the British Virgin Islands in what it says is a true producer-to-table experience. Food that can't be bought locally is sustainably sourced. There's still comfort and fun at the table, though – the resort even has a wood burning pizza oven.
Private Island, Private Beach… and Beyond
On a private island, the world – or at least the island- is your oyster. The white sand beach is reserved for you and your private party. But The Aerial, in keeping with its personal, physical and spiritual growth mission, has its own distinct twist on private island activities.
Of course you expect the luxuries of a spa and healing center on the beach, an infinity pool, multiple bars including a beach bar, ping-pong, a yacht, Hobie Cats and a full complement of watersports, and even a recording studio. A wood burning fire pit on the beach? Check.
Those in search of self-improvement and relaxation can participate in yoga in inspired places, guided meditation and writing. Get your blood pumping hiking miles of island-wide trails. Reflect on our place in the universe stargazing.
There's memory-making fun for families and adults trying to rediscover their inner child. A fleet of pastel-colored, electric Mini Mokes. On the beach: a tribal gym set, giant Jenga and giant Connect 4 and movies and bonfires on the beach.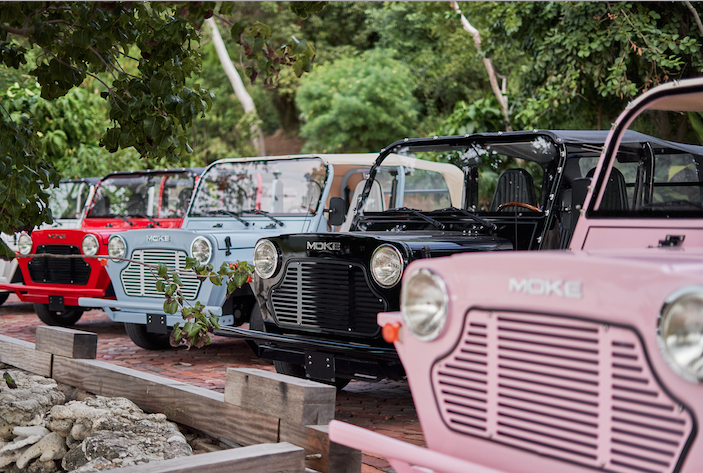 And beyond your wildest dreams! "Indy's Redemption Ranch" on the island is home to rescued former race horses, miniature ponies, and even a handful of zebras. Riding on the beach and hand feeding the herd is just the beginning. Swimming with the ponies and guided equine therapy take ranch-on-the-beach to a whole different level.
The Aerial replaces traditional concepts of private island resorts with conscious travel that reconnects you and your select group of guests with the wonders of Nature, and gives you the inspired spaces, seclusion, and activities to discover your very best life.
Start Your Private Island Trip!
Interested in Luxury Hotels & Resorts?